Individual Ready Icons
You can buy individual icons to suit your needs. Each icon is $1 when purchased individually.
Icon Usage Agreement
Perfect Toolbar Icon Set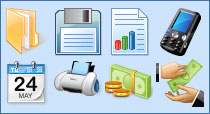 Business Toolbar Icon Set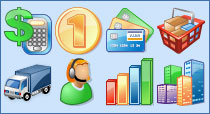 Database Toolbar Icon Set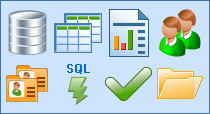 Large Weather Icon Set
represent a number of weather conditions typical in software, weather portals, and mobile gadgets. The images are supplied in all sizes standard to Windows, Mac OS, and mobile platforms. The biggest versions are huge 512x512 pixel images with vector sources in Adobe Illustrator (.ai) format easily available and ready to be printed or used in presentations in highest quality.
Icons for medicine and chemistry: ambulance car, snake cup, pill, tablet, tooth, phial, syringe, test-tube, skull, bones, molecules and others.

Enhance an accounting project or financial software with beautifull graphics.
Accounting Development Icon Set
illustrate numerous concepts and objects related to accounting and bookkeeping, such as currencies, financial symbols, files, customers, and more.
Security Software Icon Set
is a collection of professionally-crafted stock icons for use in business and private products, such as software applications, websites and desktops. The icons present a marvelous color palette, smooth and well-rounded edges.
Standard Software Icon Set
is pack of colorful software-related icons carefully designed by experienced artists. This pack is an ideal selection for navigation panels and toolbars of any type.