Business Icon Set
User Icon Set
Computer Icon Set
Web Icon Set
Hardware Icon Set
Database Icon Set
Office Icon Set
City Icon Set
Mobile Icon Set
Medical Icon Set
Network Icon Set
Bank Icon Set
Security Icon Set
Telecom Icon Set
Blog Icon Set
People Icon Set
Multimedia Icon Set
Doctor Icon Set
Science Icon Set
File Icon Set
Internet Icon Set
Design Icon Set
Get a Better Blog with the Right Icon Set
Working on a blog engine or developing a new forum? Perfect Blog Icon Set are here to make navigation on your blog of forum look great. The set includes every image used in typical blogs and forums for navigating, posting, commenting and sharing opinions. Make your blog look and feel professional by using the perfectly crafted set of Perfect Blog Icon Set!

Each image comes in multiple states, resolutions and formats. Each icon comes in all sizes of 16x16, 20x20, 24x24, 32x32, and 48x48 pixels, and three states: normal, disabled, and highlighted. Color depths of 256 colors and 32-bit True Color are supported. All icons are supplied in Windows Icon (ICO), Bitmap (BMP), GIF, and PNG formats. The entire set of 68 icons is available for only $39.95.


Perfect Blog Icon Set
Get a Better Blog with the Right Icon Set
Some of today's most popular and lucrative projects on the web involve blogs and forums, and incorporating these elements into a project can draw in users and encourage them to contribute and create value. Many aspects of blog and forum development are important for realizing success, but some of the most central are focused on the project's visual presentation, and blog icons have a central role to play in this presentation. Some project managers and developers choose to work with blog and forum icons that are generic or come as a basic part of existing publishing software, but taking your icons a step further with a professionally-designed collection can significantly improve your product's value.

We offer a collection of icons specifically designed for blog and forum navigation, helping your online project make great waves on the web. You'll find all the basics including RSS and feed icons, comment graphics, and navigation symbols along with specialized icons such as approval and disapproval emoticons, favorite icons, and others. Best of all, you can keep a consistent and tidy look through the use of this set, which incorporates modern styles and finishes throughout. Dazzle your users with icons for web projects that look fantastic and make navigation straightforward and easy.

Inserting the ideal icon for a given function is easy with our collection. Once you've chosen the right graphic for the job, you can choose from a number of file types and sizes. You'll also find each icon available in three distinct modes for giving your blog or forum product a professional touch. Disabled, highlighted, and normal graphics are available for each icon in the set. Engage and impress your users with these attractive icons and add a new dimension to your web project.


Download demo icons
Purchase this icon set for $39.95 now!
Individual Ready Icons
You can buy individual icons to suit your needs. Each icon is $1 when purchased individually.
Icon Usage Agreement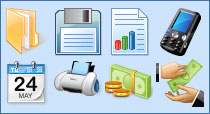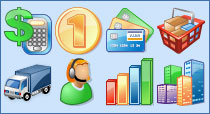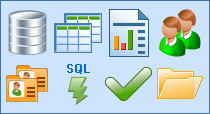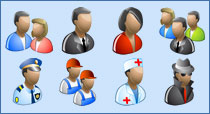 Large Weather Icon Set
represent different weather conditions that are common for software, weather Web sites, and mobile gadgets. The icons are available in typical sizes standard to Windows, Mac OS, and other systems. The largest versions are huge 512x512 pixel images with vector sources in Adobe Illustrator (.ai) format easily affordable and ready to be printed or used in presentations in highest resolution.
Business Icon Set
. A collection of all-purpose icons with various symbols for the business environment for use with your software or on your website.
Vista Toolbar Icon Set
will give a variety to your interface replacing the standard icons with top grade stock icons in Vista style. The icons have bright colors and well-finished edges.
Medical Icon Set for Vista
has been created to eliminate any misunderstanding arising while looking at a medical Web site or operating a medical software. The icons are provided in various sizes and formats.
Large Money Icon Set
is a set of carefully made icons for use in any spftware or Web projects, including software applications, websites, blogs and presentations. The icons present a bright color palette, and smooth edges.