Business Icon Set
User Icon Set
Computer Icon Set
Web Icon Set
Hardware Icon Set
Database Icon Set
Office Icon Set
City Icon Set
Mobile Icon Set
Medical Icon Set
Network Icon Set
Bank Icon Set
Security Icon Set
Telecom Icon Set
Blog Icon Set
People Icon Set
Multimedia Icon Set
Doctor Icon Set
Science Icon Set
File Icon Set
Internet Icon Set
Design Icon Set
Table Icon Set for Database Software
Perfect Table Icon Set is a collection of wonderful hand-made icons for use in various database products, including software applications, mobile projects, online web sites and presentations. The icons have bright color palette, smooth and well-rounded edges.

Your order gets you 156 unique icons. Each image comes in multiple states, resolutions and formats. Each icon comes in all sizes of 16x16, 20x20, 24x24, 32x32, and 48x48 pixels, and three states: normal, disabled, and highlighted. Color depths of 256 colors and 32-bit True Color are supported. All icons are supplied in Windows Icon (ICO), Bitmap (BMP), GIF, and PNG formats. The entire set is available for only $49.95.


Perfect Table Icon Set
Download demo icons
Purchase this icon set for $49.95 now!
Desktop Icon Set - Making Desktops Look Lucrative!
These days, application makers and the web designers are seriously looking for the most effective looking desktop icons which they can use for applications and website. These professionals were using the traditional method of designing these icons at own end before and adding them for the applications and website design. But now the internet has certainly managed to change the whole way for them! Now these professionals are taking help of the ready to use icons and downloading them from the online world for free.

And the sites not offering free download option for these icons are exactly adding a very small fee for using these icons straightaway once downloaded from the internet. Its all about making the desktop icons eye catching and the people involved in the icon making task knows it very well. Now you can also avail bitmap icons, vector icons and stock icons along with the desktop icons that can really make your application or web designing task easier than before. Reason why Windows rearranges icons on the desktop is just because that "forgets" layout that the icons had. Each time that you reboot and shut down computer, icons are generally saved to database that gives exact positions on the screen. While Windows can't read the positions, it also gets very confused & basically resorts to rearranging entire list of the icons on desktop.

First thing that you have to do to fix problem is disabling "Auto Arrange Icon Set" aspect of system. Lots of computers have auto arrange icons choice that is enabled on the system that causes computer to try & put icons in the specific order. In order, to fix this, you must right click on desktop, and click on the "View" and see in case, "Auto-Arrange" is been ticked. In case, it is, untick it and this must stop rearranging. In case, your computer doesn't have "auto arrange" choice checked, you must then look at some other option named as "Align Icon Set To Grid". It is the option that generally links icons to some part of the computer screen as well as in case, the options gets damaged or else corrupted, then Windows is known to rearrange these icons on the desktop. In order, to fix this, you have to right-click on desktop, and click on the "View" and after that on the "Align Icon Set To Grid".


Individual Ready Icons
You can buy individual icons to suit your needs. Each icon is $1 when purchased individually.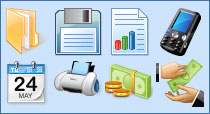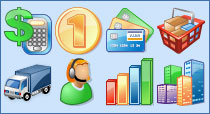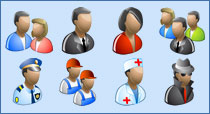 Icon Usage Agreement