Web Icon Collection for Site Developers
The collection of web icon images will instantly enhance any web portal, online shop, forum, blog or trade management application. This icon pack depicts a variety of objects, symbols and actions typical for the web sites, including online icon, HTML icon, user icon, client icon, dollar icon, and many others. Perfect Web Icon Set are instantly available and royalty-free.

Your order gets you 341 unique icons depicting various web objects and symbols. Each image comes in multiple states, resolutions and formats. Each icon comes in all sizes of 16x16, 20x20, 24x24, 32x32, and 48x48 pixels, and three states: normal, disabled, and highlighted. Color depths of 256 colors and 32-bit True Color are supported. All icons are supplied in Windows Icon (ICO), Bitmap (BMP), GIF, and PNG formats. The entire set of 341 icons is available for only $49.95.


Perfect Web Icon Set
Download demo icons
Purchase this icon set for $49.95 now!
Aha-Soft Publishes a Collection of Royalty-Free Web Icon Images
Aha-Soft announces the availability of Perfect Web Icon Set, a readily available set of stock images for Web and software developers. The new collection offers over two hundred icons drawn in common style, color and gamut. The library of Web icons is available for $99.95.

About Perfect Web Icon Collection

Perfect Web Icon Collection is the perfect choice for busy software developers. Packing more than two hundred icons assembled into a set with matching properties such as style and colors, Perfect Web Icon Set can be used in Web projects and scripts, new text editors, as well as on blogs, forums, and Web sites. Perfect Web Icon Set will make a product, blog or applet look professional and consistent throughout. All images in the Perfect Web Icon Set collection are royalty-free. The entire set is instantly available and comes with an online preview.

What's Inside

This icon pack supplies images that are commonly used in Web applications, text editors, and online publishing mechanisms. Icon Set such as New and Save, Preview, Flip and Rotate, Cut, Copy and Paste, Excel, Format, Spreadsheet, Send and Receive, Page Count, Edit and Clear, and many others are included.

From the technical standpoint, the set includes images in a number of formats, sizes, color resolutions, and image styles. Every icon from the collection is provided in resolutions of 16x16, 20x20, 24x24, 32x32, and 48x48 pixels. Normal, disabled, and highlighted states are provided for every icon. 256-color and translucent True Color icons are provided. Perfect Web Icon Set are provided in Windows Icon (ICO), Bitmap (BMP), GIF and PNG formats for easy integration with all systems. The entire collection of 241 Web icons sells for only $99.95.

About the Company

Founded in 2000, Aha-Soft provides a variety of software tools and stock icons to webmasters and application developers worldwide. The company develops products for creating, modifying, organizing and publishing icons and small graphics, and offers a wide range of ready-made, royalty-free icons. The company has thousands of meticulously designed and individually crafted icons. All images are available individually or assembled to matching collections. Custom icon design services are available by request.


Have you been wondering about converting your favored images into icons?
A Majority of web and application designers do not like to use commercial icons that are openly offered on several websites.

Most people are averse to the idea of using ready to use web graphics that are casually offered online; they want to create icons from pictures that they prefer; so, given below are crucial pieces of information on the procedure to turn your pictures into pictorial depictions.

It is not uncommon to come across photo icons on every second website online; they give a semblance of creativity and entertainment value to your online establishment, online communication and even social messages on community sites . You can also incorporate an icon on your personal cards or use them your mail tags to personalize your correspondence. Creating a photo icon is very straight forward and calls for the use of little more than the most rudimentary expertise of image editing. If you have not given a shot to turning your pictures into icons uptil now; here is a quick look at how you can accomplish the job with considerable ease and in just a few minutes.

The primary step is to buy an excellent icon converter software; these are easily accessible online for a minuscule amount. Take a look at the images that you want to convert into icons and make sure that these photographs are in a format that can be simply demarcated from the other files. The fundamental shape of the icon will aid visitors to recognize it fast. If the photo has not been clicked by you, take the required permission before putting it to use.

With the image in hand, ensure that you use a popular graphics format such as DNG, PNG or JPG through the use of your chosen icon creating tool. You will need to change the file settings of the image. To start, change the resolution to 72 DPI; this is the normal resolution used for internet and digital purposes. However, if you think that the graphics will be printed, change the image resolution at 300 DPI, you could lower the resolution after the first few steps have been completed.

Use the crop tool to modify the pixel dimensions to live up to your expectations of the desired photo icon. Generally, a square format is used for icon creation while the size range is in the vicinity of 50X50 to 300x300 pixels. For example, if you choose to include the icon as your social networking avatar, you will need to downsize it to 50x50 pixels which is the ideal size of avatar usage

To crop the photograph, you will have to press the right button on the mouse and move the tool over the picture and choose the portion that you wish to include in your icon. It is advisable to select an area that can be identifiable even though the icon is tiny.

Save the image using the 'save for web' setting or another options that yield the same results; that is a part of the photo creator. Another factor to ascertain is that you have used the proper color settings such as 8 bit, which is the usual web color setting. It would be advisable to store the icon at the highest quality because of its small size; this will not affect the the uploading time.

You will need to save the file in GIF, JPG or PNG because these are the most frequently used formats in the cyber world and in graphic creation software. Now, you will only have to upload the image to your site or to a social media network and you should be good to go. As opposed to this, you can just keep the icon in the folder reserved for archives so that it can be used in the future. As you must have noticed, changing pictures that you like into a pictorial depiction is not exactly taxing, so get ready to have loads of fun with your preferred pictures.


Individual Ready Icons
You can buy individual icons to suit your needs. Each icon is $1 when purchased individually.
Icon Usage Agreement
Perfect Toolbar Icon Set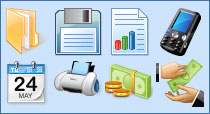 Business Toolbar Icon Set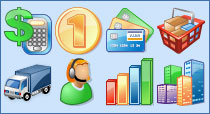 Database Toolbar Icon Set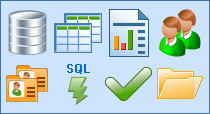 Large Weather Icon Set
represent different weather conditions that are common for software, weather Web sites, and mobile gadgets. The icons arprovided in typical sizes standard to Windows, Mac OS, and mobile platforms. The largest versions are huge 512x512 pixel icons with vector sources in Adobe Illustrator (.ai) format easily affordable and ready to be printed or used in presentations in highest resolution.
Speed up creation of e-romance Web sites and applications with pre-made Delicious Love Icon Set. The collection contains more than sixty love icons and pffers many symbols and objects common to Web sites about human relationships.
Add professionally crafted toolbar icons to your software projects.
Program Toolbar Icon Set
are instantly available, royalty-free graphics of items, tasks and concepts that are commonly used in software toolbars.
SibCode Medical Icon Library is an excellent set of icons that covers most of the possible medicine-related application's needs. The choice of professionals at an affordable price!
Give your database, Web application or software an exclusive, attractive look with a stunning new set of icons.
Plastic Toolbar Icon Set
are carefully developed and hand-crafted in all the provided sizes.